About Farm & Factory Interiors
Robert, Becky, and Aaron Bixby
Farm & Factory Interiors was formed out of our love for a simpler time, prior to mass production, where individual craftsmanship was an important part of items produced. This was an era when trade skills were valued and passed from one generation to the next. A time of endless possibilities and innovation.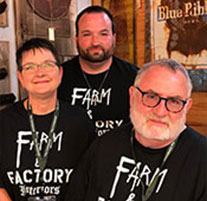 As an engineer I've always been fascinated with vintage mechanical equipment and their components. Many of these components were designed beyond functionality to include artistic elements. We often travel through Middle American collecting vintage materials saving them from the scrap yard with the intention to repurpose them into lighting and interior furnishings.
Farm & Factory Interiors is a small family owned company with a simple objective to design and produce light and interior furnishings that are creative and preserve the historical beauty of the vintage components. We believe our handcrafted designs will enhance your living or work space environments. As a small company we emphasize customer satisfaction. We love to participate in your lighting and interior furnishing decisions. No customer needs are too small or too large. Our clients include individual home owners, interior designers, restaurants, architects and commercial space managers. All of our designs start with the selection of vintage materials. All electrical components are new and UL approved. The finished lighting design is tested and certified to UL standards. Our products are built to our designs or to a customer generated designs. We can customize most of our designs to suit our client's needs.
Our love of a simpler time and the artistic elements of the vintage materials we use are an integral part of the products we produce. Including our lighting and interior furnishings in your home or business allows you to live with a piece of history and the soul of Americana not found in today's mass produced imports. I hope you enjoy our work as much as we like producing them. This is our passion!!!
Robert Bixby
Founder Farm & Factory Interiors